Tamal Krishna Goswami Tape Ministry
---
Listen Online MP3 RA
Everfresh
While listening to any lectures by His Holiness Tamal Krishna Goswami, please keep in mind that these lectures were given over three decades. The times changed and therefore some of the comments are obviously relevant to that point in time only. However, at the same time, most of the content is inspired from the eternal teachings of the Vedic Literatures and Gaudiya Vaisnava sampradaya (disciplic succession). In that light, the messages on these lectures have eternal instructions that can benefit listeners regardless of time, place, and circumstances.
Term of Use: You can download the lectures for your personal use or to share with other devotees. You are not allowed to charge others for the lectures. You are not allowed to host the lectures on your own website. Feel free to link to our website from your website.
To listen online: LEFT click on the LENGTH of the lecture, and it should start playing right away.
If this doesn't work for you, LEFT click on the SIZE of the lecture instead.
To download: RIGHT click on the SIZE of the lecture and do "Save Target As" or "Save Link As" to save the file onto your computer.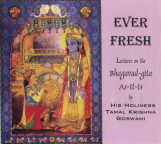 Description: Counting 10 Bhagavad-gita discourses held in Texas over the past years, half of which recent recordings. Bhagavad-gita are the words of the everfresh Supreme Lord, and certainly Srila Gurudeva is tasting those eternal words in everfresh ways. So to hear him speak the nectar of the Bhagavad-gita is always a refreshing experience for our hearts and minds.

| Date | Place | Verse | Length | Size | Title | Series |
| --- | --- | --- | --- | --- | --- | --- |
| 1991.07.30 | Houston, US | Home Program | 91:56 | 21.0M | Our Worst Disease: Envy of God | Everfresh |
| 1994.12.15 | Houston, US | BG 10.17 | 81:55 | 18.8M | The Hare Krsna Life Insurance Policy | Everfresh |
| 1994.12.17 | Houston, US | BG 18.11 | 89:57 | 20.6M | Come and Live With Us! | Everfresh |
| 1994.12.18 | Dallas, US | BG 4.38 | 27:32 | 6.3M | The Best Charity | Everfresh |
| 1995.04.29 | Austin, US | Eve Program | 150:52 | 34.5M | An Evening of Krsna Consciousness | Everfresh |
| 1997.09.28 | Dallas, US | SFL BG 2.62-63 | 21:35 | 4.9M | One Destination: Back Home Back to Godhead | Everfresh |
| 1997.10.12 | Dallas, US | SFL BG 3.25 | 26:12 | 6.0M | Don't Disturb the Ignorant | Everfresh |
| 1997.10.26 | Dallas, US | BG 9.23 | 21:34 | 4.9M | How to Worship Other Gods | Everfresh |
| 1997.11.19 | Dallas, US | Eve Program | 30:38 | 7.0M | Inspecting Sankirtana Forces | Everfresh |
| 1997.11.30 | Dallas, US | BG 18.10 | 24:55 | 5.7M | Doubtless Work | Everfresh |
| 1997.12.07 | Dallas, US | SFL BG 18.22 | 24:16 | 5.6M | 3 Types of Knowledge | Everfresh |
| 1997.12.14 | Houston, US | SFL BG 18.30-32 | 37:34 | 8.6M | The Three Types of Intelligence | Everfresh |
| 1998.02.01 | Dallas, US | SFL BG 9.26 | 24:54 | 5.7M | Surrender & Krsna Will Take Care of You | Everfresh |