Tamal Krishna Goswami Tape Ministry
---
Listen Online MP3 RA
Gauranga Lila
While listening to any lectures by His Holiness Tamal Krishna Goswami, please keep in mind that these lectures were given over three decades. The times changed and therefore some of the comments are obviously relevant to that point in time only. However, at the same time, most of the content is inspired from the eternal teachings of the Vedic Literatures and Gaudiya Vaisnava sampradaya (disciplic succession). In that light, the messages on these lectures have eternal instructions that can benefit listeners regardless of time, place, and circumstances.
Term of Use: You can download the lectures for your personal use or to share with other devotees. You are not allowed to charge others for the lectures. You are not allowed to host the lectures on your own website. Feel free to link to our website from your website.
To listen online: LEFT click on the LENGTH of the lecture, and it should start playing right away.
If this doesn't work for you, LEFT click on the SIZE of the lecture instead.
To download: RIGHT click on the SIZE of the lecture and do "Save Target As" or "Save Link As" to save the file onto your computer.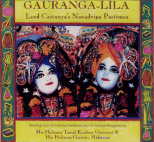 Description: The first five tapes consist of a number of never-before-released, enticing Caitanya-Caritamrita discourses about Lord Caitanya's childhood pastimes, given in Houston, Summer 1989. The second part of this series are intimate classes which were recorded during the Navadvipa-mandala parikrama early 1994, in which His Holiness and his very dear associate His Holiness Giriraja Maharaja take turns reading and explaining the Sri Caitanya-Bhagavata, which is a reservoir of Gauranga-lila. Some stories which are read & relished: 'Nimai's Boyhood Pranks', 'The Marriage of Visvambhara', 'Lord Caitanya Meets Isvara Puri', 'The Passing of Laksmidevi', 'The Glories of Lord Nityananda', 'Lord Caitanya Starts the Sankirtana-Movement', 'The Deliverance of Jagai and Madhai'. Exciting, beautiful stories, sweet Vaisnava-dealings.

| Date | Place | Verse | Length | Size | Title | Series |
| --- | --- | --- | --- | --- | --- | --- |
| 1989.07.15 | Houston, US | CcAdi 14.1-23 | 78:35 | 18.0M | Recognizing an Incarnation | Gauranga Lila |
| 1989.07.17 | Houston, US | CcAdi 14.24-43 | 71:10 | 16.3M | Simultaneously One & Different | Gauranga Lila |
| 1989.07.18 | Houston, US | CcAdi 14.51-71 | 74:54 | 17.1M | The Best Mantra for the Kali Age | Gauranga Lila |
| 1989.07.19 | Houston, US | CcAdi 14.72-16.18 | 79:14 | 18.1M | On Ekadasi & Taking Sannyasa | Gauranga Lila |
| 1989.07.22 | Houston, US | CcAdi 17.34-17.100 | 80:26 | 18.4M | The Deliverance of Gopal Capala | Gauranga Lila |
| 1994.03.14 | Navadvipa, India | C.Bhag Madhya 11 | 46:41 | 10.7M | The Glories of Lord Nityananda, w/ Giriraja Swami, Nitaicand Swami | Gauranga Lila |
| 1994.03.15 | Navadvipa, India | C.Bhag Madhya 18 | 63:51 | 14.6M | Lord Caitanya Dances as Laksmi Devi, w/ Giriraja Swami, w/ Hindi | Gauranga Lila |
| 1994.03.19 | Navadvipa, India | C.Bhag Adi 6 | 60:45 | 13.9M | Nimai Begins Study and Performs Mischief, w/ Giriraja Swami, Umapati Swami | Gauranga Lila |
| 1994.03.21 | Navadvipa, India | C.Bhag Adi 14 | 61:55 | 14.2M | Lord Caitanya Travels to East Bengal, w/ Giriraja Swami | Gauranga Lila |
| 1994.03.22 | Navadvipa, India | C.Bhag Adi 14 | 61:27 | 14.1M | Dealing With Feelings of Separation, w/ Giriraja Swami | Gauranga Lila |
| 1994.03.23 | Navadvipa, India | C.Bhag Adi 15 | 31:45 | 7.3M | Sri Nimai Marries Sri Visnupriya, w/ Giriraja Swami | Gauranga Lila |
| 1994.03.24 | Navadvipa, India | C.Bhag Madhya 13 | 49:45 | 11.4M | How Jagai and Madhai Were Saved, w/ Giriraja Swami | Gauranga Lila |
| 1994.03.25 | Navadvipa, India | C.Bhag Madhya 15 | 33:20 | 7.6M | Madhai Attains Transcendental Bliss, w/ Giriraja Swami | Gauranga Lila |