Tamal Krishna Goswami Tape Ministry
---
Listen Online MP3 RA
Matchless Memories
While listening to any lectures by His Holiness Tamal Krishna Goswami, please keep in mind that these lectures were given over three decades. The times changed and therefore some of the comments are obviously relevant to that point in time only. However, at the same time, most of the content is inspired from the eternal teachings of the Vedic Literatures and Gaudiya Vaisnava sampradaya (disciplic succession). In that light, the messages on these lectures have eternal instructions that can benefit listeners regardless of time, place, and circumstances.
Term of Use: You can download the lectures for your personal use or to share with other devotees. You are not allowed to charge others for the lectures. You are not allowed to host the lectures on your own website. Feel free to link to our website from your website.
To listen online: LEFT click on the LENGTH of the lecture, and it should start playing right away.
If this doesn't work for you, LEFT click on the SIZE of the lecture instead.
To download: RIGHT click on the SIZE of the lecture and do "Save Target As" or "Save Link As" to save the file onto your computer.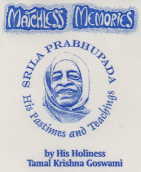 Description:
4 new tapes full of Prabhupada Nectar, with background music - in handy vinyl album
His Movement - How it spread under his guidance
His Teachings - What he wants us to do; then and now
His Lila - Nectarean pastimes, stories, jokes etc.
His Unique Position - How he differs from other teachers
Srila Tamal Krishna Goswami: "I cannot find one single quality which most exemplifies Srila Prabhupada within my mind. Prabhupada was unlimitedly kind to give me so much association, and because of that I see him as a whole personality. I think it becomes easier for someone if they had less asociation to select one quality, one issue or one incident. But with myself, there was so much association on such a continuous basis throughout the years, that I just think of Prabhupada as a whole personality. He had many, many moods and they were all very wonderful."
Tape One: The Journey to America - The Early Days - Preaching in Europe
Tape Two: Back to India - Sannyasa - The Radha-Damodara Party
Tape Three: The Final Year
Tape Four: Srila Prabhupada - His Pastimes and Teachings