Tamal Krishna Goswami Tape Ministry
---
Listen Online MP3 RA
Parivrajakacarya
While listening to any lectures by His Holiness Tamal Krishna Goswami, please keep in mind that these lectures were given over three decades. The times changed and therefore some of the comments are obviously relevant to that point in time only. However, at the same time, most of the content is inspired from the eternal teachings of the Vedic Literatures and Gaudiya Vaisnava sampradaya (disciplic succession). In that light, the messages on these lectures have eternal instructions that can benefit listeners regardless of time, place, and circumstances.
Term of Use: You can download the lectures for your personal use or to share with other devotees. You are not allowed to charge others for the lectures. You are not allowed to host the lectures on your own website. Feel free to link to our website from your website.
To listen online: LEFT click on the LENGTH of the lecture, and it should start playing right away.
If this doesn't work for you, LEFT click on the SIZE of the lecture instead.
To download: RIGHT click on the SIZE of the lecture and do "Save Target As" or "Save Link As" to save the file onto your computer.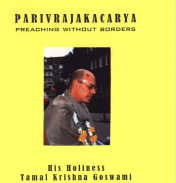 Description: All around the world - 1995. Ten dynamic tapes covering visits to the Philippines, Hong Kong, Malaysia and Paris. Topics: Srila Prabhupada desired for all of his followers that they should advance from the level of a neophyte devotee and rise to the madhyama-platform in devotional service. How to do it? Plus: Hear how KC is spreading in Hong Kong, as well as strong words spoken on a one-day visit to Kuala Lumpur, urging all devotees to remain in a preaching mood and not sink back into "civilian consciousness". Then: on to Paris, where Sri-Sri Radha-Parisisvara reign, only hardly anybody is aware of it. When will the day come...? The cherry on this preaching pie are the New Mayapura lectures, on famous CC verses, covering the relationship between guru and disciple and the importance of associating with devotees.

| Date | Place | Verse | Length | Size | Title | Series |
| --- | --- | --- | --- | --- | --- | --- |
| 1994.11.24 | Bombay, India | SB 7.5.26 | 51:40 | 11.8M | Constant Preaching Will Protect Us | Parivrajakacarya |
| 1994.11.24 | B. Manor, UK | SB 2.5.23 | 40:41 | 9.3M | Why We Need to Study the Creation | Parivrajakacarya |
| 1995.02.01 | Iloilo, PH | SB 2.1.12 | 51:58 | 11.9M | Don't Be Casual With Your Spiritual Life | Parivrajakacarya |
| 1995.02.02 | Iloilo, PH | SB 3.29.10 | 46:55 | 10.7M | Go for Pure Devotional Service | Parivrajakacarya |
| 1995.02.03 | Iloilo, PH | SB 3.29.16 | 40:49 | 9.3M | Rise Above the Kanistha Platform | Parivrajakacarya |
| 1995.02.08 | Hong Kong | SB 2.7.46 | 36:15 | 8.3M | The Power of Surrender | Parivrajakacarya |
| 1995.02.10 | Kuala Lumpur, Malaysia | SB 5.5.16 | 37:25 | 8.6M | The Shortchange of Sense Gratification | Parivrajakacarya |
| 1995.02.10 | Kuala Lumpur, Malaysia | Wedding | 32:26 | 7.4M | Vedic Marriage Is Transcendental | Parivrajakacarya |
| 1995.03.19 | Hong Kong | SB 2.8.17 | 35:46 | 8.2M | Become Deathless by Hearing Srimad Bhagavatam | Parivrajakacarya |
| 1995.03.21 | Hong Kong | SB 2.8.19-20 | 52:45 | 12.1M | A Devotee Is Delivered by Krsna's Mercy | Parivrajakacarya |
| 1995.04.14 | Paris, France | Arrival | 7:41 | 1.8M | Let Krsna Take Over Paris | Parivrajakacarya |
| 1995.04.14 | Paris, France | | 56:34 | 12.9M | Today's Society & Awakening of Consciousness | Parivrajakacarya |
| 1995.04.15 | New Mayapur, France | CcAdi 1.46 | 71:57 | 16.5M | The Guru-Disciple Relationship Is Very Intimate, w/ French | Parivrajakacarya |
| 1995.04.16 | New Mayapur, France | SB 1.14.30 | 38:01 | 8.7M | The Preacher and Prema Bhakti | Parivrajakacarya |
| 1995.04.16 | New Mayapur, France | CcM 22.54 | 44:15 | 10.1M | Our Progress Depends on Sadhu-sanga | Parivrajakacarya |