Tamal Krishna Goswami Tape Ministry
---
Listen Online MP3 RA
Prayers of Narottama Dasa Thakura
While listening to any lectures by His Holiness Tamal Krishna Goswami, please keep in mind that these lectures were given over three decades. The times changed and therefore some of the comments are obviously relevant to that point in time only. However, at the same time, most of the content is inspired from the eternal teachings of the Vedic Literatures and Gaudiya Vaisnava sampradaya (disciplic succession). In that light, the messages on these lectures have eternal instructions that can benefit listeners regardless of time, place, and circumstances.
Term of Use: You can download the lectures for your personal use or to share with other devotees. You are not allowed to charge others for the lectures. You are not allowed to host the lectures on your own website. Feel free to link to our website from your website.
To listen online: LEFT click on the LENGTH of the lecture, and it should start playing right away.
If this doesn't work for you, LEFT click on the SIZE of the lecture instead.
To download: RIGHT click on the SIZE of the lecture and do "Save Target As" or "Save Link As" to save the file onto your computer.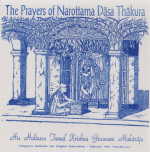 Description: Beautiful bhajans selected from Narottama dasa Thakura's beautiful collection of songbooks called "Prarthana" & "Prema-bhakti-candrika". The songs seem very simple but they deal with essential spiritual topics like hankering for the association of devotees, and for pure chanting of the holy Name. They speak of serving the spiritual master, Lord Nityananda & Lord Caitanya, and Sri-Sri Radha-Krishna. His Holiness himself plays the harmonium and sings the lead vocals. Afterwards he reads the translation and gives a spirited purport. This is transcendental relaxation, folks! Fully edited version, recorded in Vrindavana during the holy month of Kartika.

| Date | Place | Verse | Length | Size | Title | Series |
| --- | --- | --- | --- | --- | --- | --- |
| 1992.09.29 | Vrndavana, India | VIHE PBC 1 Prarthana 2 | 60:19 | 13.8M | | Prayers of Narottama Dasa Thakura |
| 1992.09.30 | Vrndavana, India | VIHE Prarthana 2,4 | 58:58 | 13.5M | | Prayers of Narottama Dasa Thakura |
| 1992.10.01 | Vrndavana, India | VIHE Prarthana 4,5 | 50:16 | 11.5M | | Prayers of Narottama Dasa Thakura |
| 1992.10.02 | Vrndavana, India | VIHE Prarthana 18,16 | 51:21 | 11.8M | | Prayers of Narottama Dasa Thakura |
| 1992.10.03 | Vrndavana, India | VIHE PBC 2 | 58:38 | 13.4M | | Prayers of Narottama Dasa Thakura |
| 1992.10.06 | Vrndavana, India | VIHE Prarthana 7,8 | 58:51 | 13.5M | | Prayers of Narottama Dasa Thakura |
| 1992.10.07 | Vrndavana, India | VIHE Prarthana 9 | 50:24 | 11.5M | | Prayers of Narottama Dasa Thakura |
| 1992.10.08 | Vrndavana, India | VIHE Prarthana 40 PBC 3 | 51:56 | 11.9M | | Prayers of Narottama Dasa Thakura |
| 1992.10.09 | Vrndavana, India | VIHE PBC 4 | 62:25 | 14.3M | | Prayers of Narottama Dasa Thakura |
| 1992.10.10 | Vrndavana, India | VIHE PBC 7 | 52:14 | 12.0M | | Prayers of Narottama Dasa Thakura |
| 1992.10.13 | Vrndavana, India | VIHE PBC 8 | 55:06 | 12.6M | | Prayers of Narottama Dasa Thakura |
| 1992.10.14 | Vrndavana, India | VIHE PBC 8 Prarthana 37 | 60:26 | 13.8M | | Prayers of Narottama Dasa Thakura |
| 1992.10.15 | Vrndavana, India | VIHE Prarthana 45,48,34 | 54:46 | 12.5M | | Prayers of Narottama Dasa Thakura |
| 1992.10.16 | Vrndavana, India | VIHE Prarthana 17,46,15 | 58:17 | 13.3M | | Prayers of Narottama Dasa Thakura |
| 1992.10.17 | Vrndavana, India | VIHE Prarthana 43,24,13 | 48:28 | 11.1M | | Prayers of Narottama Dasa Thakura |
| 1992.10.20 | Vrndavana, India | VIHE Prarthana 26,28 | 56:12 | 12.9M | | Prayers of Narottama Dasa Thakura |
| 1992.10.21 | Vrndavana, India | VIHE Prarthana 27,49,48 | 62:46 | 14.4M | | Prayers of Narottama Dasa Thakura |