Tamal Krishna Goswami Tape Ministry
---
Listen Online MP3 RA
Sankirtana Spirit
While listening to any lectures by His Holiness Tamal Krishna Goswami, please keep in mind that these lectures were given over three decades. The times changed and therefore some of the comments are obviously relevant to that point in time only. However, at the same time, most of the content is inspired from the eternal teachings of the Vedic Literatures and Gaudiya Vaisnava sampradaya (disciplic succession). In that light, the messages on these lectures have eternal instructions that can benefit listeners regardless of time, place, and circumstances.
Term of Use: You can download the lectures for your personal use or to share with other devotees. You are not allowed to charge others for the lectures. You are not allowed to host the lectures on your own website. Feel free to link to our website from your website.
To listen online: LEFT click on the LENGTH of the lecture, and it should start playing right away.
If this doesn't work for you, LEFT click on the SIZE of the lecture instead.
To download: RIGHT click on the SIZE of the lecture and do "Save Target As" or "Save Link As" to save the file onto your computer.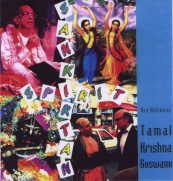 Description: Here are 10 great tapes of collected SB classes recorded during 1995 - shortly before Srila Gurudeva took up his university studies- in Dallas, Houston, LA and Florida. This series is not meant for sankirtana devotees in particular, although naturally they will especially relish these lectures. Rather, the titles will reveal that Srila Gurudeva is addressing all of us who feel identified with and sheltered by Srila Prabhupada's International Society for Krishna Consciousness. All throughout these classes rings a passionate yet compassionate plea to remind us that no matter which difficulties we may have to face in life, - either individually, as struggling grhastha's or collectively, as we try to keep this movement together - according to our Founder-acarya His Divine Grace A.C. Bhaktivedanta Swami Prabbhupada, preaching is still the essence of Lord Caitanya's message and EVERYONE should take up some type of it in some way. In other words, these tapes can provide inspiration for us to get up and do something which will give a lot of pleasure to Srila Prabhupada - and enliven our selves as well, in a way nothing else will. Remember that 'translucent feeling' you'd have after a good harinama or day of preaching?! Well, you can have it again!

| Date | Place | Verse | Length | Size | Title | Series |
| --- | --- | --- | --- | --- | --- | --- |
| 1993.11.19 | Houston, US | SB 6.4.12 | 29:09 | 6.7M | Dispense the Greatest Gift | Sankirtana Spirit |
| 1994.12.10 | Austin, US | C.Bhag | 53:12 | 12.2M | Distribute the Mercy & You Will Get the Mercy | Sankirtana Spirit |
| 1994.12.11 | El Paso, US | SB 1.8.41 | 39:02 | 8.9M | On Family Attachment | Sankirtana Spirit |
| 1995.05.03 | Dallas, US | SB 1.5.11 | 54:53 | 12.6M | Revolutionaries Against Maya | Sankirtana Spirit |
| 1995.05.10 | Houston, US | SB 7.6.8 | 46:17 | 10.6M | Rise Above Your Attachments by Preaching | Sankirtana Spirit |
| 1995.05.18 | Alachua, US | SB 3.6.10 | 58:19 | 13.4M | Our Austerity Is to Preach | Sankirtana Spirit |
| 1995.05.30 | Los Angeles, US | | 56:56 | 13.0M | Sankirtana Meeting | Sankirtana Spirit |
| 1995.06.09 | Houston, US | | 81:52 | 18.7M | Srila Prabhupada's Preaching Mood | Sankirtana Spirit |
| 1995.06.10 | Houston, US | SB 7.7.22 | 53:25 | 12.2M | Sincere Faith Is All You Need to Preach | Sankirtana Spirit |
| 1997.01.11 | Dallas, US | SB 1.18.45 | 51:59 | 11.9M | How to Measure Advancement | Sankirtana Spirit |
| 1997.01.12 | Dallas, US | | 105:05 | 24.1M | Sankirtana Marathon Festival | Sankirtana Spirit |
| 1997.05.17 | Houston, US | SB 4.22.26 | 60:50 | 13.9M | If You Save the World You Save Yourself | Sankirtana Spirit |