Tamal Krishna Goswami Tape Ministry
---
Listen Online MP3 RA
Songs of Bhaktivinoda Thakura
While listening to any lectures by His Holiness Tamal Krishna Goswami, please keep in mind that these lectures were given over three decades. The times changed and therefore some of the comments are obviously relevant to that point in time only. However, at the same time, most of the content is inspired from the eternal teachings of the Vedic Literatures and Gaudiya Vaisnava sampradaya (disciplic succession). In that light, the messages on these lectures have eternal instructions that can benefit listeners regardless of time, place, and circumstances.
Term of Use: You can download the lectures for your personal use or to share with other devotees. You are not allowed to charge others for the lectures. You are not allowed to host the lectures on your own website. Feel free to link to our website from your website.
To listen online: LEFT click on the LENGTH of the lecture, and it should start playing right away.
If this doesn't work for you, LEFT click on the SIZE of the lecture instead.
To download: RIGHT click on the SIZE of the lecture and do "Save Target As" or "Save Link As" to save the file onto your computer.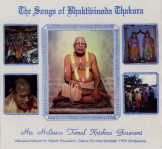 Description: Recorded in January 1994 during the V.I.H.E. seminars in the transcendental setting of Vrindavana. Wonderful bhajans in traditional style led by Nandanandana Prabhu and explained by Srila Tamal Krishna Goswami. Many new songs which you've never heard before. Some subjects? The process of surrender to Krishna described in detail, how to pray in deep humility, the importance and the joy of chanting the pure holy names, wonderful glorification of Sri-Sri Gaura-Nitai and Sri-Sri Radha-Krishna and Their intimate associates and pastimes. But also: A sharp analysis of the faultfinding mentality and our strong attachment to the already-dead material body. Sing along and be purified!

| Date | Place | Verse | Length | Size | Title | Series |
| --- | --- | --- | --- | --- | --- | --- |
| 1994.01 | Vrndavana, India | VIHE | 83:14 | 19.1M | 01 Saranagati: Sri-krsna-caitanya Prabhu Jive, Bhuliya Tomare, Manasa Deho Geho | Songs of Bhaktivinoda Thakura |
| 1994.01 | Vrndavana, India | VIHE | 88:40 | 20.3M | 02 Saranagati: Sarvasva Tomar, Atma-samarpane, Tuwa-bhakti-pratikula | Songs of Bhaktivinoda Thakura |
| 1994.01 | Vrndavana, India | VIHE | 54:56 | 12.6M | 03 Saranagati: Ami To' Swananda, Suddha-bhakata, Gurudev Krpa-bindhu | Songs of Bhaktivinoda Thakura |
| 1994.01 | Vrndavana, India | VIHE | 85:43 | 19.6M | 04 Saranagati: Vaisnava Thakura, Kabe Habe Bolo; Gitavali: Nadiya-godrume, Gay Gora, Radha-Krsna Bol, Doyal Nitai | Songs of Bhaktivinoda Thakura |
| 1994.01 | Vrndavana, India | VIHE | 90:05 | 20.6M | 05 Gitavali: Narada Muni, Radhika-carana, Rasika nagari, Yadi Te | Songs of Bhaktivinoda Thakura |
| 1994.02 | Vrndavana, India | VIHE | 85:48 | 19.6M | 06 Kalyana-kalpataru: Ruper Gauraba, Mana Tumi Tirthe, Mana Tore Boli | Songs of Bhaktivinoda Thakura |
| 1994.02 | Vrndavana, India | VIHE | 89:13 | 20.4M | 07 Kalyana-kalpataru: Ami Ati Pamara, Durlabha Manava, Ore Mana Badibar, Kabe Mor Mudha | Songs of Bhaktivinoda Thakura |
| 1994.02 | Vrndavana, India | VIHE | 87:10 | 20.0M | 08 Kalyana-kalpataru: Bhavarnave Pade, Gopinatha Mama; Gita-mala: Heno Dusta, Anya Asa, Agre Ek Nivedana | Songs of Bhaktivinoda Thakura |
| 1994.02 | Vrndavana, India | VIHE | 80:20 | 18.4M | 09 Gita-mala: Tumi Jagater Pita, Ami Ati Dina-mati, Bandhilo Maya | Songs of Bhaktivinoda Thakura |
| 1994.02 | Vrndavana, India | VIHE | 40:26 | 9.3M | 10 Gita-mala: Kabe Gaura-vane, Dekhite Dekhite & Nandanandana's Solo Singing | Songs of Bhaktivinoda Thakura |