Tamal Krishna Goswami Tape Ministry
---
Listen Online MP3 RA
Under the Rays of the Black Moon
While listening to any lectures by His Holiness Tamal Krishna Goswami, please keep in mind that these lectures were given over three decades. The times changed and therefore some of the comments are obviously relevant to that point in time only. However, at the same time, most of the content is inspired from the eternal teachings of the Vedic Literatures and Gaudiya Vaisnava sampradaya (disciplic succession). In that light, the messages on these lectures have eternal instructions that can benefit listeners regardless of time, place, and circumstances.
Term of Use: You can download the lectures for your personal use or to share with other devotees. You are not allowed to charge others for the lectures. You are not allowed to host the lectures on your own website. Feel free to link to our website from your website.
To listen online: LEFT click on the LENGTH of the lecture, and it should start playing right away.
If this doesn't work for you, LEFT click on the SIZE of the lecture instead.
To download: RIGHT click on the SIZE of the lecture and do "Save Target As" or "Save Link As" to save the file onto your computer.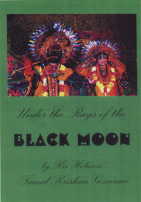 Description: This series comprises of 16 tapes of the illustrious Saturday morning SB classes, recorded in Dallas, Texas during the first 9 months of 1997. For those who read this and wonder what type of uncommon title Rati Manjari came up with this time: 'Black Moon' is the translation of Kalachandji, the name Srila Prabhupada gave to the ancient Deity of Krishna in Dallas. Given the facts that Srila Gurudeva took shelter at Sri-Sri Radha-Kalachandji Dhama for the full period of his studies at SMU, that all these classes were delivered before Kalachandji's all-merciful glance, and that the celebration of the 25th Anniversary of Sri-Sri Radha Kalachandji's installation is also included in this series, I considered this title appropriate. Whoever hears these tapes will learn many new things and get an invigorating taste of Srila Gurudeva's study mood: intensely focused devotion to Lord Krishna in the early morning, resulting in dedicated (and successful!) pursuance of -apparently- worldly study results throughout the day. Each of these 21(!) lectures is a jewel which, if you let it, can shine through and illuminate your consciousness. Fascinating and encouraging for all of us who have taken up our sets of duties in this material world.

| Date | Place | Verse | Length | Size | Title | Series |
| --- | --- | --- | --- | --- | --- | --- |
| 1997.01.15 | Dallas, US | SB 1.18.48 | 52:41 | 12.1M | Responding to Offensive Behavior | Under the Rays of the Black Moon |
| 1997.01.18 | Dallas, US | SB 1.19.1-2 | 40:27 | 9.3M | Through Association We Become Strong | Under the Rays of the Black Moon |
| 1997.02.11 | Dallas, US | | 8:42 | 2.0M | Reading "America the Beautiful" | Under the Rays of the Black Moon |
| 1997.02.15 | Dallas, US | SB 1.19.29 | 44:53 | 10.3M | It's Hard Not to Advance in Spiritual Life | Under the Rays of the Black Moon |
| 1997.02.16 | Dallas, US | BG 5.18 | 44:28 | 10.2M | The Vision of the Sages | Under the Rays of the Black Moon |
| 1997.02.22 | Dallas, US | SB 1.19.34 | 48:16 | 11.1M | Let Krsna Make His Mark on the World | Under the Rays of the Black Moon |
| 1997.03.15 | Dallas, US | SB 2.1.13 | 43:53 | 10.0M | Devotees Can Interfere with Destiny | Under the Rays of the Black Moon |
| 1997.03.16 | Dallas, US | SFL BG 6.1 | 26:34 | 6.1M | For Krsna You Can Renounce Everything | Under the Rays of the Black Moon |
| 1997.03.22 | Dallas, US | SB 2.1.19 | 67:50 | 15.5M | Exclusivism, Inclusivism, Pluralism and Krsna Consciousness | Under the Rays of the Black Moon |
| 1997.04.12 | Dallas, US | SB 2.2.1 | 44:48 | 10.3M | All Because of Our Forgetfulness of God | Under the Rays of the Black Moon |
| 1997.04.19 | Dallas, US | SB 2.2.6 | 58:39 | 13.4M | The Language of Religion | Under the Rays of the Black Moon |
| 1997.04.20 | Dallas, US | SFL | 32:30 | 7.4M | Environmentalism: The Vaisnava Perspective | Under the Rays of the Black Moon |
| 1997.04.26 | Dallas, US | SB 2.2.12 | 92:04 | 21.1M | Make a Lifetime Plan to Serve Krsna; During Bhakti-yoga Retreat Weekend | Under the Rays of the Black Moon |
| 1997.05.10 | Dallas, US | SB 2.2.27 | 56:23 | 12.9M | Two Things: Become Krsna Conscious and Give It to Others | Under the Rays of the Black Moon |
| 1997.05.12 | Dallas, US | Darsana | 72:26 | 16.6M | Competition or Cooperation?, w/ Giridhari Swami | Under the Rays of the Black Moon |
| 1997.05.28 | Dallas, US | SB 2.3.9 | 50:22 | 11.5M | Find Your Place & Serve Krsna With Love | Under the Rays of the Black Moon |
| 1997.08.16 | Dallas, US | SB 2.5.39 | 55:24 | 12.7M | Build Up Your Appreciation for Krsna | Under the Rays of the Black Moon |
| 1997.09.06 | Dallas, US | SB 7.5.23 | 83:31 | 19.1M | Under the Rays of the Black Moon; Radha-Kalachandji 25th Anniversary | Under the Rays of the Black Moon |
| 1997.09.20 | Dallas, US | SB 2.6.33 | 46:33 | 10.7M | The Science of Disentanglement | Under the Rays of the Black Moon |
| 1997.09.24 | Dallas, US | Eve Program | 46:30 | 10.6M | Prasadam-katha | Under the Rays of the Black Moon |
| 1997.10.04 | Dallas, US | SB 2.7.1 | 62:44 | 14.4M | Believe God Comes as Pig or Become One Yourself | Under the Rays of the Black Moon |