Tamal Krishna Goswami Tape Ministry
---
Listen Online MP3 RA
Vaisnava Festival Days Vol II
While listening to any lectures by His Holiness Tamal Krishna Goswami, please keep in mind that these lectures were given over three decades. The times changed and therefore some of the comments are obviously relevant to that point in time only. However, at the same time, most of the content is inspired from the eternal teachings of the Vedic Literatures and Gaudiya Vaisnava sampradaya (disciplic succession). In that light, the messages on these lectures have eternal instructions that can benefit listeners regardless of time, place, and circumstances.
Term of Use: You can download the lectures for your personal use or to share with other devotees. You are not allowed to charge others for the lectures. You are not allowed to host the lectures on your own website. Feel free to link to our website from your website.
To listen online: LEFT click on the LENGTH of the lecture, and it should start playing right away.
If this doesn't work for you, LEFT click on the SIZE of the lecture instead.
To download: RIGHT click on the SIZE of the lecture and do "Save Target As" or "Save Link As" to save the file onto your computer.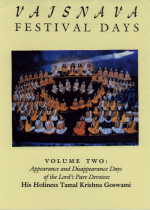 Description: Now you can celebrate every festival with Tamal Krishna Goswami! After a period of intensive mining in the archives of the Tape Ministry, here are the fruits for all devotees to relish: * Thirty-two tapes containing forty-one (!) lectures on all the major festivals of the Vaisnava-calendar year. * Follow how His Holiness preaches over the years and all over the world. * Classes go from as early as 1979 up to 1995, from Australia to Zurich, and just about everywhere in between! * Now you can have all this complete in two beautiful vinyl albums with first-class covers. * This is a Milestone, a series which you can listen to for the rest of your life, year after year after year ...... Volume Two Appearance and Disappearance Days of the Lord's Pure Devotees A wonderful collection of sixteen tapes containing twenty-three (!) complete lectures glorifying the previous acaryas on the occasion of their Appearance and Disappearance Days. Madhavendra Puri, Raghunatha dasa Gosvami, Srinivasacarya, Ramananda Raya, Srivasa Thakura, Bhaktivinoda Thakura and Gadadhara Pandita, Rupa and Sanatana Gosvamis, Lokanatha Swami, Haridasa Thakura, Gaurakishora dasa Babaji, Gadadhara dasa, Dhananjaya dasa, Bhaktisiddhanta Sarasvati Maharaja, Madhvacarya, everyone is there! And of course our beloved Srila Prabhupada. This series include some very special tapes from the old days, with His Holiness commenting on Srila Prabhupada's arrival prayers in Boston, and proudly recounting the early days of Prabhupada's preaching in America. Two beautiful classes on Prabhupada's Appearance Day given in Mayapura '84 and New Zealand '92, plus two on his Disappearance Day, given in Dallas '79 and '84. So as you see, a lot of Prabhupada-katha! This series will definitely increase your attachment and love for the members of our disciplic succession.

| Date | Place | Verse | Length | Size | Title | Series |
| --- | --- | --- | --- | --- | --- | --- |
| 1979.07.13 | Chicago, US | | 49:26 | 11.3M | The Founding of ISKCON | Vaisnava Festival Days Vol II |
| 1979.10.25 | Dallas, US | Prabhupada Disapp | 66:52 | 15.3M | Krsna's Viceroy Is the Spiritual Master | Vaisnava Festival Days Vol II |
| 1981.09.17 | Sydney, AU | | 57:09 | 13.1M | Srila Prabhupada's Arrival in USA | Vaisnava Festival Days Vol II |
| 1984.02.21 | New Delhi, India | Bhaktisiddhanta App SB 2.5.38 | 57:30 | 13.2M | Scientist Bluffers | Vaisnava Festival Days Vol II |
| 1984.08.21 | Mayapur, India | Prabhupada Vyasa-puja | 47:01 | 10.8M | The Vaisnavas Are Eternally Present | Vaisnava Festival Days Vol II |
| 1984.10.28 | Dallas, US | Prabhupada Disapp | 43:33 | 10.0M | Force Us to Preach | Vaisnava Festival Days Vol II |
| 1984.10.28 | Dallas, US | Prabhupada Disapp | 8:20 | 1.9M | Offering | Vaisnava Festival Days Vol II |
| 1985.09.26 | Houston, US | Bhaktivinoda App | 45:38 | 10.4M | | Vaisnava Festival Days Vol II |
| 1986.12 | New York, US | SB 4.12.49-50 | 23:31 | 5.4M | Take Up Selfless Service Spirit | Vaisnava Festival Days Vol II |
| 1986.12.20 | New York, US | Bhaktisiddhanta Disapp | 36:55 | 8.5M | | Vaisnava Festival Days Vol II |
| 1989.06.15 | NZ | CcAntya 3 | 68:26 | 15.7M | The Glories of Haridasa Thakura | Vaisnava Festival Days Vol II |
| 1990.05.09 | Houston, US | Srinivasa App | 60:16 | 13.8M | Appearance of Madhavendra Puri, Srinivasa & Radha-Damodara | Vaisnava Festival Days Vol II |
| 1990.10.30 | Houston, US | Gaurakisora Disapp | 30:47 | 7.0M | Srila Gaurakisora dasa Babaji Maharaja | Vaisnava Festival Days Vol II |
| 1990.10.31 | Houston, US | | 41:54 | 9.6M | Srila Gaurakisora dasa Babaji Maharaja | Vaisnava Festival Days Vol II |
| 1991.06.02 | Dallas, US | Ramananda Raya Disapp CcM 38.245 | 34:13 | 7.8M | Disappearance Day of Sri Ramananda Raya | Vaisnava Festival Days Vol II |
| 1991.07.07 | Dallas, US | Srivasa Disapp CcAdi 17 | 36:27 | 8.3M | Disappearance Day of Srivasa Thakura | Vaisnava Festival Days Vol II |
| 1991.07.11 | Dallas, US | Bhaktivinoda Disapp | 49:26 | 11.3M | Disappearance of Bhaktivinoda & Gadadhara | Vaisnava Festival Days Vol II |
| 1991.07.26 | Dallas, US | Sanatana Disapp CcM 20.25 | 27:34 | 6.3M | Perfection of Renunciation | Vaisnava Festival Days Vol II |
| 1991.08.03 | Houston, US | Lokanatha Disapp | 31:04 | 7.1M | Disappearance of Lokanatha Goswami | Vaisnava Festival Days Vol II |
| 1991.08.22 | Labasa, Fiji | Rupa Disapp | 45:01 | 10.3M | Disappearance of Rupa Goswami & Gauridasa Pandita | Vaisnava Festival Days Vol II |
| 1992.08.23 | NZ | Prabhupada Vyasa-puja | 29:46 | 6.8M | Srila Prabhupada's Appearance Day | Vaisnava Festival Days Vol II |
| 1993.02.01 | Singapore | Madhvacarya Disapp | 64:00 | 14.6M | The Teachings of Madhvacarya | Vaisnava Festival Days Vol II |
| 1993.11.21 | Houston, US | Srinivasa Disapp | 71:01 | 16.3M | Disappearance Day of Srinivasa Acarya, Gadadhara Dasa Goswami & Dhananjaya Pandita | Vaisnava Festival Days Vol II |
| 1995.02.04 | Iloilo, PH | Vasant Pancami | 55:32 | 12.7M | Appearance of Pundarika, Raghunatha, Raghunandana | Vaisnava Festival Days Vol II |