Tamal Krishna Goswami Tape Ministry
---
Listen Online MP3 RA
Frontiers
While listening to any lectures by His Holiness Tamal Krishna Goswami, please keep in mind that these lectures were given over three decades. The times changed and therefore some of the comments are obviously relevant to that point in time only. However, at the same time, most of the content is inspired from the eternal teachings of the Vedic Literatures and Gaudiya Vaisnava sampradaya (disciplic succession). In that light, the messages on these lectures have eternal instructions that can benefit listeners regardless of time, place, and circumstances.
Term of Use: You can download the lectures for your personal use or to share with other devotees. You are not allowed to charge others for the lectures. You are not allowed to host the lectures on your own website. Feel free to link to our website from your website.
To listen online: LEFT click on the LENGTH of the lecture, and it should start playing right away.
If this doesn't work for you, LEFT click on the SIZE of the lecture instead.
To download: RIGHT click on the SIZE of the lecture and do "Save Target As" or "Save Link As" to save the file onto your computer.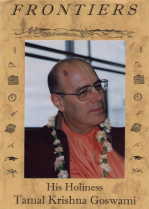 Description: Always looking for new challenges and ways to expand his service to Srila Prabhupada and the previous acaryas, about three years ago Tamal Krishna Goswami decided to enroll at South Methodist University, Texas, to study Sanskrit and religion. He felt this would enable him to reach the academic community and impress upon them the real imports of Krishna consciousness. Quite a bold move to make for a person of his caliber and spiritual background, but as time has shown, a very successful one. Straight A's, honorary awards, lots of new friends and contacts, two new books, and recently, a Graduation With Honors(!) are some of the visible results of His Holiness's concentrated study efforts. FRONTIERS are the very first lectures he gave to the devotees after embarking on this great adventure. One meaning of FRONTIERS is "the land that forms the furthest extent of a country's settled or inhabited region". The academic world is a largely untrodden region for devotees but His Holiness, with a true pioneering spirit, is rapidly furthering the borders of his devotional career in his new role as a student at SMU. This explains the choice of title for this fascinating series. Despite his busy schedule His Holiness always made time to give the Saturday morning lecture to the Dallas temple devotees who came from far and wide not to miss it. And now you can join in as well! Listen to...... * Although following the format of regular Bhagavatam lectures, these classes are full of interesting facts and comparisons which clearly evolve from His Holiness's intensive studies. * He speaks humorously on a variety of topics like the absurd ways in which people try to enjoy nowadays or how they profess to honor their heroes. * He stresses the need to give up sense gratification and surrender to Krishna if we want real, lasting happiness. Thanks to His Holiness's fresh realisations these basic but essential Vedic teachings come across more powerful and convincing than ever before. * His love for the Dallas devotees whom he has known for many years and his concern for their spiritual lives is vividly shown in his words and moods of speech. * Apart from sharing philosophical knowledge, His Holiness adds many personal notes regarding the way he conducts his daily life. Besides endearing to hear, these are also helpful to us. How he remains fixed in his purpose despite mixing intimately with materialistic persons every day, his study habits, dreams he has, even the type of alarm clock he uses! Listen to FRONTIERS and you will find out all these things and many more.

| Date | Place | Verse | Length | Size | Title | Series |
| --- | --- | --- | --- | --- | --- | --- |
| 1995.12.20 | Houston, US | Iso 14 | 68:33 | 15.7M | Know Maya and Krsna and Conquer Fear | Frontiers |
| 1996.01.20 | Dallas, US | SB 1.10.24 | 45:19 | 10.4M | Nature's Laws Mean the Laws of God | Frontiers |
| 1996.01.27 | Dallas, US | SB 1.10.29 | 48:17 | 11.1M | Depend on Effort, Not on Fortune | Frontiers |
| 1996.02.03 | Dallas, US | SB 1.10.36 | 59:38 | 13.7M | Faith or Work; The Fast Track Back to Godhead | Frontiers |
| 1996.02.24 | Dallas, US | SB 1.11.15 | 46:57 | 10.7M | Artificial Intelligence vs. the Human Brain | Frontiers |
| 1996.03.02 | Dallas, US | SB 1.11.24 | 56:57 | 13.0M | Preaching Is a Pleasure | Frontiers |
| 1996.03.04 | Dallas, US | Gaura Purnima | 38:56 | 8.9M | Make Your Life Sacred by Giving | Frontiers |
| 1996.03.16 | Dallas, US | SB 1.11.37 | 27:34 | 6.3M | Krsna the ExtraOrdinary Person | Frontiers |
| 1996.03.23 | Dallas, US | SB 1.12.5 | 54:49 | 12.5M | The Cry of the Soul | Frontiers |
| 1996.03.30 | Dallas, US | SB 1.12.13 | 58:13 | 13.3M | Outgrowing the Cowboy Culture | Frontiers |
| 1996.04.06 | Dallas, US | SB 1.12.20 | 50:49 | 11.6M | Without Heroes There Is No Religion | Frontiers |
| 1996.04.20 | Dallas, US | SB 1.12.33 | 42:23 | 9.7M | Calvin, Machiavelli and Krsna Consciousness | Frontiers |
| 1996.04.27 | Dallas, US | SB 1.13.5 | 43:28 | 10.0M | The Art of Connecting with Krsna 24 Hours | Frontiers |
| 1996.05.04 | Dallas, US | SB 1.13.11 | 34:38 | 7.9M | Wrapped in the Service of Krsna | Frontiers |
| 1996.05.30 | Dallas, US | SB 1.13.39 | 60:47 | 13.9M | Vedic Literatures: History and Herstory | Frontiers |
| 1996.09.07 | Dallas, US | SB 1.15.49 | 41:02 | 9.4M | Get Ready to Fly Your Own Plane | Frontiers |
| 1996.09.14 | Dallas, US | SB 1.16.4 | 97:37 | 22.3M | Preaching Is Active Compassion | Frontiers |
| 1996.09.28 | Dallas, US | SB 1.16.19 | 52:31 | 12.0M | Krsna Consciousness Means Internally Fixed | Frontiers |
| 1996.10.19 | Dallas, US | SB 1.17.9 | 59:20 | 13.6M | Protect Yourself Through Discipline | Frontiers |
| 1996.10.26 | Dallas, US | SB 1.17.16 | 45:21 | 10.4M | Spare the Rod, Spoil the Child | Frontiers |
| 1996.11.02 | Dallas, US | SB 1.17.22 | 45:48 | 10.5M | Perceiving Krsna's Hand in Suffering | Frontiers |