Tamal Krishna Goswami Tape Ministry
---
Contact Info
We're here to serve you!
Please contact Krsna Kirtana dasa at: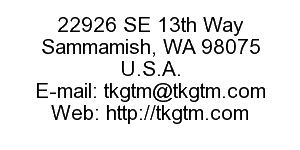 You can email me and let me know your address and what you want to order. I will let you know how much you need to pay. Then you can pay by the methods described below. Once I receive the fund I will send out your order as soon as possible.
Prices
All lectures can be downloaded FOR FREE in Listen Online section.
CD / DVD . Some of the CD images can be downloaded on the CD / DVD page.
| Title | Price |
| --- | --- |
| Joy of Hearing MP3 11-DVD set | USD 50.00 |
| Namasvadanam 1 CD | USD 7.00 |
| Prayers of Narottama Dasa Thakura CD | USD 7.00 |
| Antyopadesamrta 9-VCD | USD 30.00 |
| God, Demigods and Incarnations DVD | USD 8.00 |
| God, Demigods and Incarnations VHS(NTSC) | USD 5.00 |
Title
Price
The Drama of Lord Jagannatha (album)
USD 27.00
Listen Online
The Drama of Lord Jagannatha (softcover)
USD 3.50
The Final Pastimes of Srila Prabhupada (hardcover)
USD 7.95
A Hare Krishna at SMU (hardcover)
USD 19.95
Living Theology of Krishna Bhakti (hardcover)
USD 24.95
Reason and Belief (softcover)
USD 10.95
Servant of the Servant (softcover)
USD 19.95
Song of God (album)
USD 35.00
Listen Online
TKG Memories Volume One (softcover)
USD 12.00
TKG Memories Volume Two (softcover)
USD 12.00
TKG Memories Volume Three (softcover)
USD 12.00
TKG's Diary (hardcover)
USD 16.95
Yoga for the 21st Century (softcover)
USD 4.50
Shipping and Handling:
Our shipping & packaging prices are calculated AT COST. Please let us know what you want to order and we will give you a quote on the shipping price.
Payment Methods (all payments in US Dollars) :

Cash

Check drawn on a US bank, US Money Order or International Money Order, payable to , and mailed to the address above.
Please do NOT make it to TKGTM or ISKCON.

Through :

U.S. payment funded by Credit Card or Debit Card, or International payment: you need to send the payment to .PayPal charges us a transaction fee of 2.9% plus $0.30 to receive payment at this address, plus another 1% for international payments. So you need to increase your payment a little to cover the transaction fee. Just enter the payment amount below, and check if you are a USA or international customer. The increased payment amount will be calculated for you. Then click pay and fill in all the information. PayPal will create an account for you if you don't already have one.

U.S. payment funded by Bank Account or Paypal Balance: please send the payment to as "friends and family" from your US-based PayPal account.
If you do not already have a PayPal account, you can sign up by clicking on .

Western Union Money Transfer: please send payment to at the above address. Please email me the amount, the control number, your name and address on the transfer request.