Tamal Krishna Goswami Tape Ministry
---
Listen Online MP3 RA
Vaisnava Festival Days Vol I
While listening to any lectures by His Holiness Tamal Krishna Goswami, please keep in mind that these lectures were given over three decades. The times changed and therefore some of the comments are obviously relevant to that point in time only. However, at the same time, most of the content is inspired from the eternal teachings of the Vedic Literatures and Gaudiya Vaisnava sampradaya (disciplic succession). In that light, the messages on these lectures have eternal instructions that can benefit listeners regardless of time, place, and circumstances.
Term of Use: You can download the lectures for your personal use or to share with other devotees. You are not allowed to charge others for the lectures. You are not allowed to host the lectures on your own website. Feel free to link to our website from your website.
To listen online: LEFT click on the LENGTH of the lecture, and it should start playing right away.
If this doesn't work for you, LEFT click on the SIZE of the lecture instead.
To download: RIGHT click on the SIZE of the lecture and do "Save Target As" or "Save Link As" to save the file onto your computer.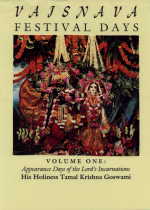 Description: Now you can celebrate every festival with Tamal Krishna Goswami! After a period of intensive mining in the archives of the Tape Ministry, here are the fruits for all devotees to relish: * Thirty-two tapes containing forty-one (!) lectures on all the major festivals of the Vaisnava-calendar year. * Follow how His Holiness preaches over the years and all over the world. * Classes go from as early as 1979 up to 1995, from Australia to Zurich, and just about everywhere in between! * Now you can have all this complete in two beautiful vinyl albums with first-class covers. * This is a Milestone, a series which you can listen to for the rest of your life, year after year after year ...... Volume One Appearance Days of the Lord's Incarnations Sixteen tapes containing eighteen ecstatic lectures. The Descent of Lord Caitanya discussed in Bhaktivedanta Manor '92, Ramnaumi in Dallas '85 and Chicago '80, Nrsimha-caturdasi in Dallas '92, Gundica-marjana and Ratha-yatra in Dallas '91 and '92, Lord Balarama's Appearance in New Zealand '92 and USA '82, Janmastami in Germany '89, Ekadasi in Houston '93, Radhastami in Australia and Dallas '93, Lord Vamanadeva's Appearance Day in Houston '85, Prayers to Lord Damodara in Dallas '90, Govardhana-puja and the installation of Sri Giriraja in Houston '84 and '90, Story of Lord Varahadeva in Houston '94, ending with a nectarean class in Mayapura '93 on Lord Nityananda's Appearance Day. Guaranteed to evoke strong remembrances of the Lord and His merciful dealings with His devotees.

| Date | Place | Verse | Length | Size | Title | Series |
| --- | --- | --- | --- | --- | --- | --- |
| 1980.03.23 | Chicago, US | Rama Navami | 35:10 | 8.1M | The Rule of Lord Ramacandra | Vaisnava Festival Days Vol I |
| 1982.08.04 | Houston, US | Balarama Purnima SB 1.9.23 | 97:34 | 22.3M | Take Risks For Krsna | Vaisnava Festival Days Vol I |
| 1984.10.26 | Houston, US | Govardhana-puja | 44:43 | 10.2M | | Vaisnava Festival Days Vol I |
| 1985.03.31 | Dallas, US | Rama Navami SFL | 52:58 | 12.1M | Appearance Day of Lord Ramacandra | Vaisnava Festival Days Vol I |
| 1986.09.14 | New York, US | Vamana App SB 8.18.1-8.20.18 | 67:45 | 15.5M | Lord Vamanadeva's Appearance Day | Vaisnava Festival Days Vol I |
| 1989.08.24 | Germany | Janmastami CcAdi 3.87 | 78:23 | 17.9M | The Appearance of Lord Krsna | Vaisnava Festival Days Vol I |
| 1990.05.06 | Houston, US | Govardhana-puja SFL | 60:44 | 13.9M | Installation of Sri Giriraja | Vaisnava Festival Days Vol I |
| 1990.10.14 | Dallas, US | Damodarastaka | 73:47 | 16.9M | Prayers to Lord Damodara | Vaisnava Festival Days Vol I |
| 1991.05.25 | Dallas, US | Ratha-yatra CcM 13 | 60:16 | 13.8M | Jayananda's Disappearance & Ratha-yatra Day | Vaisnava Festival Days Vol I |
| 1992.05.03 | B. Manor, UK | CcAdi 3.41- | 64:55 | 14.9M | Lord Caitanya, Giver of Vraja Bhakti | Vaisnava Festival Days Vol I |
| 1992.05.16 | Dallas, US | Nrsimha Caturdasi SB 7.9.2 | 58:17 | 13.3M | Nrsimhadeva, Remover of Obstacles | Vaisnava Festival Days Vol I |
| 1992.05.17 | Dallas, US | Ratha-yatra CcM 12.135 | 67:45 | 15.5M | Gundica Marjana: Cleansing the Heart | Vaisnava Festival Days Vol I |
| 1992.08.13 | NZ | Balarama Purnima SB 10.1.24 | 90:57 | 20.8M | The Glories of Sri Baladeva | Vaisnava Festival Days Vol I |
| 1993.02.05 | Mayapur, India | Nityananda Trayodasi C.Bhag Adi 9 | 49:13 | 11.3M | w/ Sivarama Swami, Jayapataka Swami | Vaisnava Festival Days Vol I |
| 1993.09.12 | Houston, US | Ekadasi SFL | 38:09 | 8.7M | Radha-Govinda, Ekadasi & Chanting Hare Krsna | Vaisnava Festival Days Vol I |
| 1993.09.22 | Dallas, US | Radhastami Initiation | 137:03 | 31.4M | Five Ways to Increase Taste | Vaisnava Festival Days Vol I |
| 1994.07.23 | Houston, US | Varaha App | 66:01 | 15.1M | The Story of Lord Varahadeva's Appearance | Vaisnava Festival Days Vol I |
| 1995.02.06 | Iloilo, PH | Advaita App Initiation | 87:43 | 20.1M | Advaita Acarya Appearance Day, w/ Giridhari Swami | Vaisnava Festival Days Vol I |
| | AU | CcM 2.18-31 | 30:33 | 7.0M | Radharani's Feelings of Separation | Vaisnava Festival Days Vol I |